About Factory Pools Perth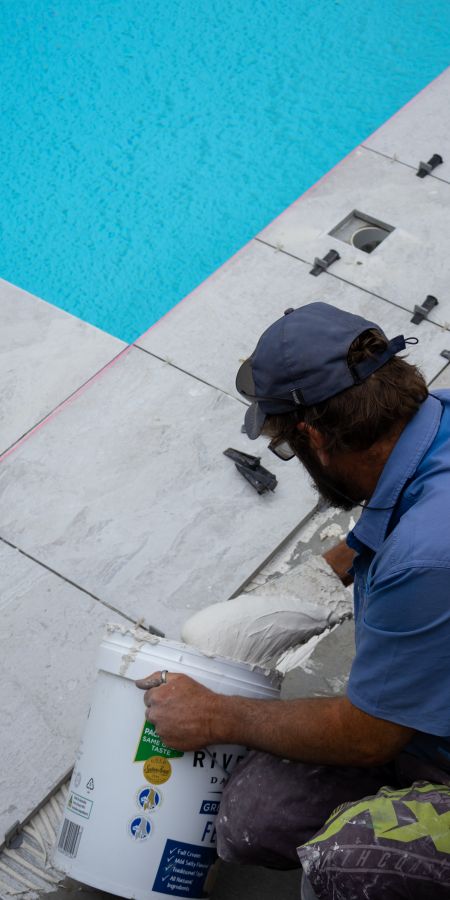 Factory Pools Perth is a member of the Barrier Reef Pools Group. We have been established to provide quality fibreglass swimming pools at an affordable cost. Boasting a lifetime structural warranty, all of our pools from Factory Pools Perth are locally manufactured at our state of the art Forrestdale facility. We guarantee to provide you with the very best price and quality in fibreglass pools.
Once manufactured, your pool will arrive at your home ready to be installed. We have a no-fuss installation process and most pools take around seven days to be completed, compared to concrete rendered or pebbled pools which can take up to three months to complete.
All contact is with our office and manufacturing plant in Forrestdale throughout the whole process. We are a locally owned company.
We have a large range of fibreglass pools to choose from and we are certain that you will find the right one for your backyard! Check out our full range here.
Access to your pool throughout the process:
We promise to give complete access to your pool at all times during the installation process. With our quality control and installation process, we are fast becoming one of Western Australia's most respected and trusted boutique swimming pool manufacturers!
Lifetime Structural Warranty
Made in WA
Member of SPASA
If you're looking to purchase a fibreglass swimming pool for your backyard, we would love to hear from you! Remember, it is a simple decision, if you're looking for the best value, then buy from the best. Speak with any of our experienced design consultants who can answer any questions you may have on our fibreglass pool range.
Great experience with Miranda and the team. We love our pool and would highly recommend the Joondalup team
Slow process at the start, but we got there in the end! All the staff are friendly and helpful. We are very Happy with our pool and the memories it's going to make! We Love love love it! Summer has never been better!
We currently use our new pool daily and the kids love it, this is the first saltwater pool I have installed and can say that I spend no time at all cleaning or checking chemicals like with my old chlorine pool.
There are several compelling reasons why installing a fibreglass pool through Factory Pools Perth would be an excellent choice for your outdoor space. Here are a few key points to consider:
Exceptional Quality and Craftsmanship: Factory Pools Perth is renowned for its commitment to exceptional quality and craftsmanship. When you choose a fibreglass pool from Factory Pools Perth, you can be confident that you are investing in a product of the highest standard. Each pool is carefully constructed using top-quality materials and advanced manufacturing techniques, ensuring durability, longevity, and a beautiful finish.

Streamlined and Efficient Installation: Factory Pools Perth specializes in the installation of fibreglass pools, offering a streamlined and efficient process. Unlike traditional concrete pools, which can take weeks or even months to install, fibreglass pools are pre-manufactured in a controlled environment. This means that the installation time is significantly reduced, allowing you to start enjoying your pool sooner and minimizing disruption to your property.

Wide Range of Designs and Sizes: Factory Pools Perth offers a wide range of fibreglass pool designs and sizes to suit your preferences and the layout of your outdoor space. Whether you prefer a modern geometric shape or a more traditional freeform design, you can find a fibreglass pool that perfectly complements your aesthetic vision. With various sizes available, you can choose the pool that best fits your backyard, whether it's a compact pool for smaller spaces or a larger pool for more extensive areas.

Low Maintenance and Long-Term Cost Savings: Fibreglass pools require less maintenance compared to other pool types. The smooth and non-porous surface of fibreglass resists algae growth, reducing the need for frequent cleaning and chemical treatments. This translates to lower maintenance costs and less time spent on upkeep, allowing you to focus on enjoying your pool rather than maintaining it. Additionally, fibreglass pools are known for their energy efficiency, thanks to their excellent insulation properties. This can result in long-term cost savings on heating and energy bills.

Aesthetically Pleasing and Comfortable: Fibreglass pools offer a sleek and visually appealing finish that enhances the overall aesthetic of your outdoor space. The smooth surface is gentle on the skin and provides a comfortable swimming experience. Additionally, fibreglass pools are available in a variety of colors and finishes, allowing you to choose the option that best suits your style and preferences.
In conclusion, installing a fibreglass pool through Factory Pools Perth offers numerous advantages, including exceptional quality and craftsmanship, streamlined installation, a wide range of designs and sizes, low maintenance requirements, long-term cost savings, and an aesthetically pleasing and comfortable swimming experience. By choosing a fibreglass pool from Factory Pools Perth, you can create a stunning and functional oasis in your own backyard, providing endless enjoyment and relaxation for years to come.
Frequently Asked Questions
Factory Pools Perth is a leading swimming pool builder and provider of high-quality pools in the Perth area. We offer a wide range of fibreglass pool options, along with comprehensive pool installation and maintenance services.
Fibreglass pools are known for their durability, low maintenance requirements, and relatively quick installation. They also offer a smooth, non-abrasive surface and come in various designs and colours.
The installation timeline can vary depending on the type and complexity of the pool, weather conditions, and other factors. On average, fibreglass pool installations may take a few days to a couple of weeks.