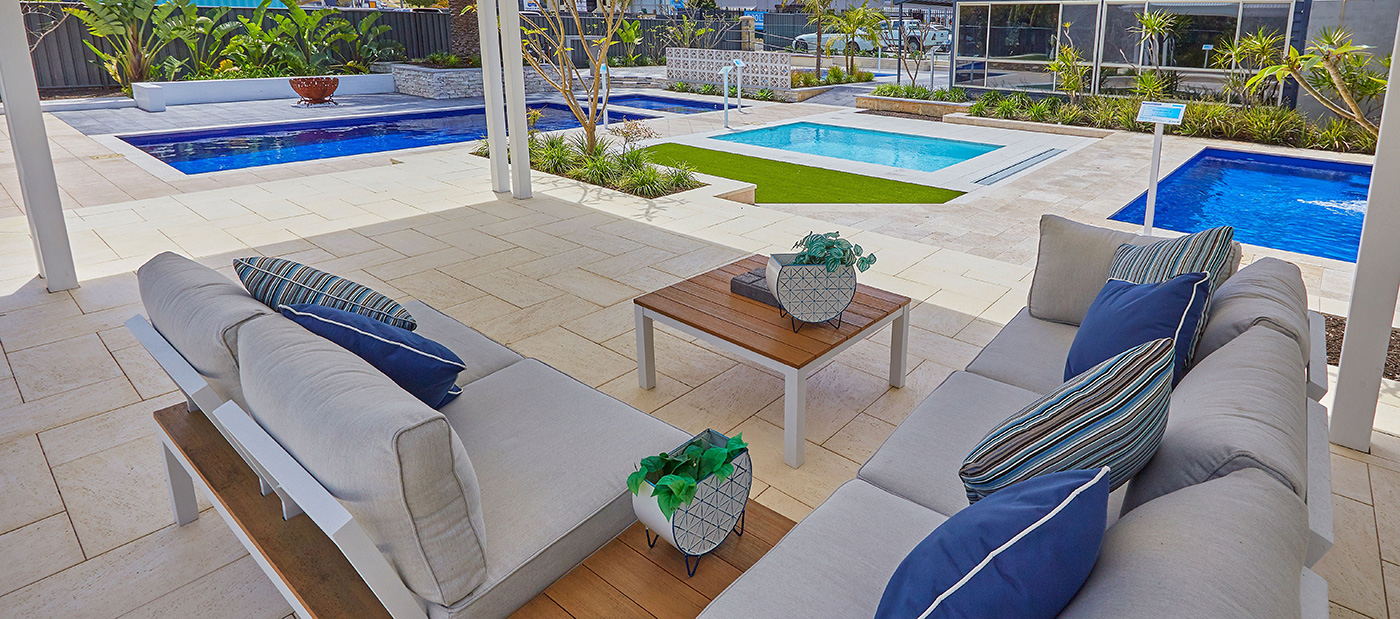 Factory Pools Perth opened their display centre in Joondalup with the aim to bring premium service and an expansive range of pools to their customer base. The Joondalup area is popular with a number of other pool providers, and this fact means less travel time for potential customers when they are scouting for quotes.
Factory Pools Perth Joondalup
Show Room Address: 55 Winton Rd, Joondalup, WA, 6919
Telephone: (08) 9300 1239
Monday: 10am to 4pm
Tuesday: 10am to 4pm
Wednesday: 10am to 4pm
Thursday: 10am to 4pm
Friday: 10am to 4pm
Saturday: 10am to 4pm
Sunday: 12pm to 4pm
The Joondalup display centre features the award-winning range of Factory Pools Perth, clearly displayed so that customers will have an easy and enjoyable time exploring the premises.
The range includes pools such as the Stradbroke, Spa Wader, Cervantes, Jurian and the Hybrid. Factory Pools Perth has gone to great lengths to ensure that the pools are not the only items on display; in fact, they have designed a contemporary and luxurious poolside area set-up. This serves to give customers and prospective pool buyers a dose of inspiration for their own design ideas and also to encourage the idea that pools need not be limited to a body of water.
The Joondalup display centre is large enough to accommodate the broad swathe of pools that are provided by Factory Pools Perth. This display range includes multiple sizes and the various colours that are available for each pool range. The display centre is situated conveniently and easy to find in Joondalup. The grounds of the centre itself are broad enough that visitors will enjoy strolling between pools and be able to see the multitude of different ways that Factory Pools Perth products can be installed and designed.
My wife and k received a really professional service which made purchasing our very first swimming pool a really positive experience.
We are so happy with the whole process and would highly recommend Factory Pools Perth. We were kept well informed every step of the way and everyone we had contact with either in person or over the phone was always friendly, knowledgeable and very helpful. Our pool looks great, we couldn't be happier. John and Nikki
Factory Pools were excellent from start to finish for our 7x4 pool installation from initial customer service and contract through to the installation supervisor and customer service post installation. Highly recommend.
Factory pools Perth did a great job with our new pool from our initial sales enquiry to installation. Can not beat the value and service offered. The end result is great and our family will be getting years of enjoyment from our new backyard.
Factory pools installed the pool as per the contract efficiently, there were a couple of issues which they resolved on the day and got the pool in. Throughout the installation they kept us informed and were professional at all time. They were great!
We had a great experience from sale to installation. Miranda in sales hooked us up with referrals for extra trades and everyone worked seamlessly together. Very responsive - I had loads of questions throughout. When we hit water during dig, Laurence the site supervisor was on hand and we quickly laid out all solutions and ended up slightly raising the level of our pool area with no delay to schedule. It also turned out to look so much better all round. Installation team, led by Carlo was great and handover tech Ray was fantastic - he should star in a handover video. We count ourselves lucky. Good price, great service, terrific pool. Very happy, just waiting for fence to go in.
Request A Free Quote Today
We invite you to visit our 
display centres
 or 
contact us
 today for a free quote and site appraisal. Let Barrier Reef Pools WA, its skilled, experienced and friendly sales staff and work with you in selecting the very best design to meet your special needs.
Enquire Online Today!
Why You Should Visit Our Joondalup Display Centre
See Our Top-Quality Fibreglass Pools: Our Joondalup Display Centre is the perfect place to witness the beauty and quality of our top-of-the-line fibreglass pools firsthand. Explore our impressive range of pool designs, shapes, and sizes, allowing you to visualise how they would enhance your own backyard oasis.

Expert Guidance and Advice: Our knowledgeable and friendly team of pool experts is available at the Joondalup Display Centre to provide you with personalised guidance and advice. Whether you have questions about pool installation, maintenance, or customisation options, our experts are here to assist you every step of the way.

Experience the Luxury: At our Joondalup Display Centre, you can immerse yourself in the luxurious experience of a fibreglass pool. Feel the smooth and durable surface of our pools, envision the possibilities of adding features like waterfalls or lighting, and gain a deeper understanding of the quality craftsmanship that goes into each pool we offer.

Inspiration for Your Dream Pool: Visiting our Display Centre in Joondalup is a great way to gather inspiration for your dream pool. Take in the various pool styles, landscaping ideas, and outdoor living concepts showcased at our centre. From modern designs to more traditional aesthetics, you can explore different possibilities and find the perfect inspiration to create the pool of your dreams.

Customisation Options: Discover the multitude of customisation options available for our fibreglass pools. From selecting the perfect colour and finish to incorporating additional features, such as seating areas or swim jets, our Display Centre allows you to explore the endless possibilities for creating a pool that perfectly suits your style and needs.

Compare and Contrast: The Joondalup Display Centre provides you with an opportunity to compare and contrast different pool models and features. This hands-on experience allows you to assess the size, shape, and design options available, enabling you to make an informed decision about the pool that best suits your preferences and the unique characteristics of your backyard.

Get Exclusive Offers: By visiting our Joondalup Display Centre, you may have access to exclusive offers and promotions. Take advantage of special deals, discounted packages, or limited-time incentives that can make owning a top-quality fibreglass pool even more affordable.
In summary, visiting our Joondalup Display Centre offers numerous benefits, including the opportunity to see our top-quality fibreglass pools up close, receive expert guidance and advice, experience the luxury of our pools, gather inspiration for your dream pool, explore customisation options, compare different pool models, and take advantage of exclusive offers. Come and visit us today to begin your journey toward creating the perfect pool for your Joondalup home.