How Long do Fibreglass Pools last?
Understandably, a swimming pool is a large investment for many and you want to be confident knowing that the pool you have chosen not only suits your home and lifestyle but is going to last for many decades to come. Here at Factory Pools Perth we often get asked, "how long does an inground pool last?".
There are a few different pool choices available on the market and they all have varying longevity. They include:
Vinyl liner pools are the cheapest to set up initially, however, they are the least durable of the three. The vinyl lining of the pool needs to be replaced every 10 years and this costs an average of $4000. It can become quite costly for the homeowner over the lifetime of the pool. The liner is also susceptible to tears and splits and may need replacing more often than the standard 10 years if this occurs. A vinyl liner pools lifespan is approximately 20-30 years.
Concrete pools are far more durable than vinyl liner pools and will last more than 25 years. Although, the interior surface of the pool needs to be resurfaced every 10 to 15 years. The average cost to resurface a concrete pool is $10,000. The interior is made up of aggregate which is highly porous, making it the perfect place for bacteria and algae to harbour and grow. This means that more time and money will need to be spent in order to keep the pool clean. Concrete pools are typically cooler than other types of pools and take more time and energy to heat.
You can expect a high-quality fibreglass pool to last more than 30 years. Unlike vinyl and concrete pools, they do not need replacing or resurfacing. Most reputable fibreglass pool companies offer generous warranties with their pools.
What gives fibreglass its superior longevity?
Factory Pools Perth use fibreglass shells that are manufactured to the highest standard by Factory Pools Perth. Their fibreglass pools are constructed using a superior quality vinyl ester resin that is extremely strong and durable. It has exceptional resistance to UV rays, heat, water, and chemicals, which in turn, results in a longer lasting pool. Fibreglass pools are designed to have a slight flex, so they are able to accommodate intense temperatures and earth movements without the risk of cracking. Although concrete pools are extremely strong, they are known for shrinkage cracking. This can happen if there is excess water in the concrete mix or extreme temperatures and wind. This generally occurs when they are first placed in.
There are 3 main factors that can contribute to the lifetime of your fibreglass pool
The quality of your fibreglass pool shell
It is important to know that all fibreglass pools are not built to the same standard. The quality of your shell is highly dependent on the materials that are used and the workmanship that is involved when manufacturing it. It's a good idea to make sure that your fibreglass pool comes with a warranty. Whilst choosing the cheapest option you can find may seem like a good idea, if the quality is poor, it can cause headaches down the track, you may end up spending more money and time fixing it or replacing it than you did initially purchasing it.
The workmanship of the fibreglass pool shell installation
If you are trying to cut down on costs, you may be tempted to try a DIY pool installation, but before you attempt to install a pool yourself you should know it is an extensive job that comes with major safety risks. Over the years we have seen many inferior pools builds and the big repair bills that come along with it. To ensure your pool is secure and you don't have issues such as bulging walls or an unlevelled pool, it is important to use an experienced licenced pool builder.
How you maintain your fibreglass pool
It's common knowledge that pools are filled with water and have a certain amount of chlorine or salt in it to keep it clean. Pools are exposed to harsh elements throughout the day and spend a majority of their time in direct sunlight. If a pool isn't maintained correctly, it can compromise the interior surface and problems may occur. A simple way to extend the lifetime of your pool is by cleaning and maintaining it on a regular basis. You can decay the protective coating of your pool if you use inadequate doses of chemicals, this will reduce the longevity of your pool substantially. The surface of a fibreglass pool is virtually nonporous, making them chemical, stain, algae, and bacteria resistant which means less time and money spent on keeping them clean. Fibreglass pools can be looked after effectively with little effort from the homeowner. They are the easiest pools to maintain on the market today. A small amount of pool care is enough to keep your pool looking great throughout the year and for many years to come.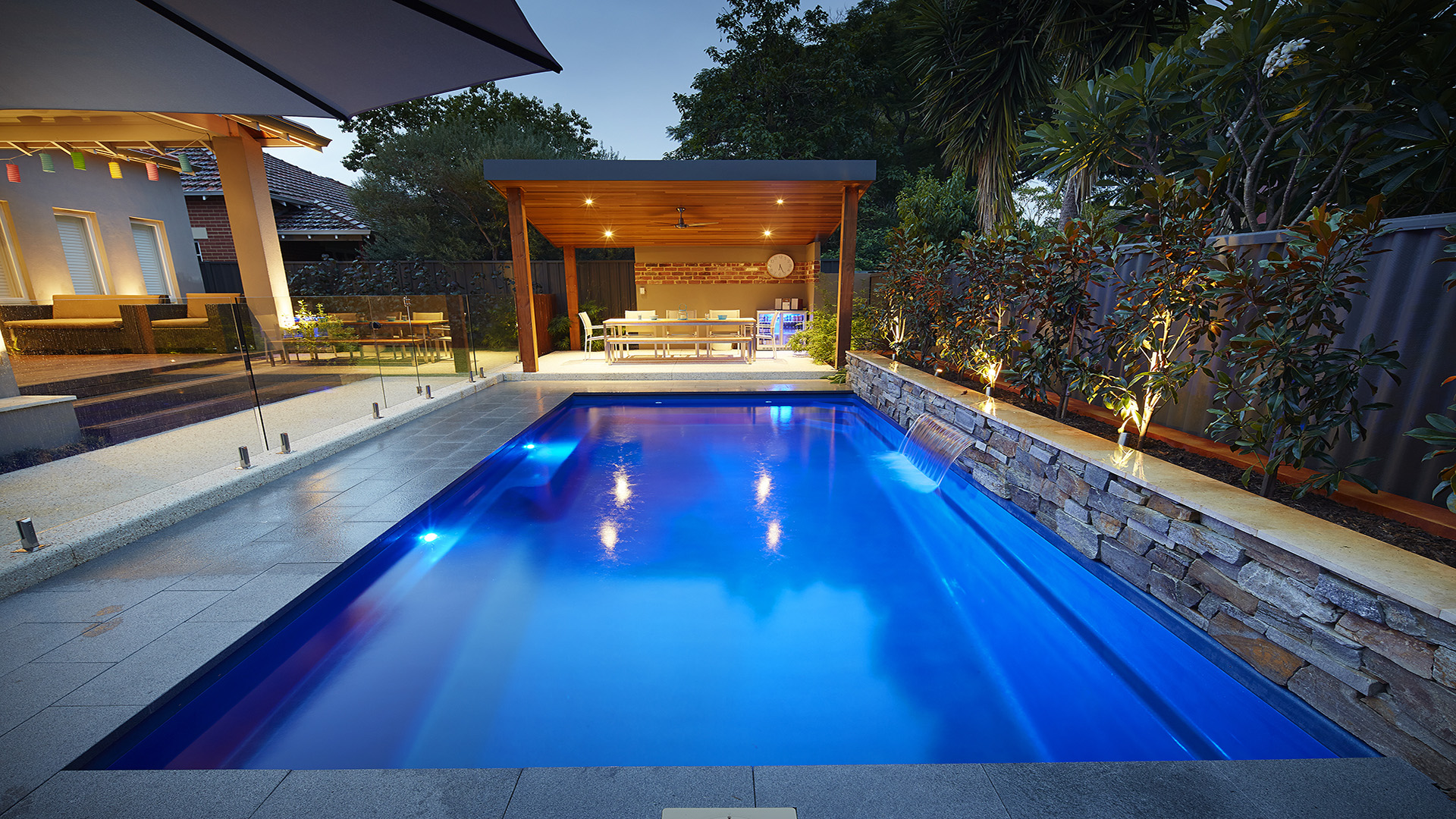 What should I look for when purchasing a fibreglass pool?
Generous warranty- this way if anything does go wrong you will not be out of pocket
Anti-fade technology – so that your pool maintains its colour for many years to come
Internal, structural and osmosis guarantee – to ensure all facets of your pool are covered
Look for a shell that is manufactured to Australian and worldwide standards
The pool should be reinforced to ensure it has superior strength
Ensure the company has strict quality control measures in place
Look for a pool with the 5 tick Australian Standards certified product certification
Only use a qualified pool builder that have extensive experience and knowledge in the pool industry
A shell that is chemical, water and UV resistant
When comparing the 3 choices of pools, you want to be sure you are getting the best value for money over the lifetime of your pool. You want to choose a pool that is going to last an extremely long time with the least amount of effort involved. Factory Pools Perth fibreglass pools are the only fibreglass pool manufacturing company with the Australian 5 tick certified product certification. They are constructed to the absolute highest standard and it is a product that we are proud to be able to offer to our customers. When you install a pool with us you know you are investing in the best fibreglass pool that money can buy. Unlike concrete and vinyl-liner pool companies that offer an average of 7 years warranty, we offer a lifetime internal and structural warranty on our entire range!
How your pool is manufactured, how it is installed and how you look after all play a key role in how long your pool will last. If you look for a fibreglass pool that has the most of the qualities listed above and you allocate a small amount of time each week to look after it once it is installed, your pool will more than likely last a lifetime. If you have any questions regarding the lifetime of one of our pools, give our highly skilled team at Factory Pools Perth a call, we are happy to help.
Read More Similar To This Blog: